NSMB Group during July 2015. Left to Right : Standing: Shruti, Sreenijha, Vaishnavi,Aswathi,Arunima,Sujya,Harsha,Sara,Jiss, Monica, Karthik, Pavana. Sitting: Siva, Aby, Natesh, Eswar, Johnson
Lab Members :
Dr. Ramanathan Natesh  (PI of the Lab)
Ph.D. : Indian Institute of Science (Bangalore, INDIA), Macromolecular Crystallography
M.Sc. : Specialisation in Molecular and Crystal Physics, Christ College (Bangalore, INDIA)
B.Sc. : St. Joseph's College (Bangalore, INDIA)
PhD  Students:
Infectious Disease Research Group(ID RG): (Mycobacterium tuberculosis and Plasmodium falciparum)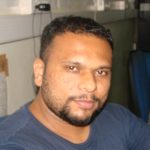 "DNA Damage Repair and Cancer" Research Group (DDR RG) : (In Prokaryotes and Eukaryotes)
Major Project Students(IISER TVM)
Current:
Alumni:
Devika C Namboodiri (2016-2017):  Currently pursuingPhD at Max Plank Graduate School in Chemical and Molecular Biology, Dortmund. Supervisor:  Dr. Alex Bird. 21Nov2017
Pavana Suresh (2015-2016) Currently pursuing PhD at Stony Brook University, Biochemistry & Structural Biology 
Jiss Maria Jose (2015-2016)  Currently a lecture in St.George's College Aruvithura
Athira Raj (2014 – 2015) Currently persuing PhD at NIIST, Trivandrum.
Salina Tigga (2014-2015) Currently working as JRF in Delhi.
External Major / Long Term Project Students:
Current:   NIL
Alumni:
Srinijah R (Jan – May 2016),B.Tech Project, from AC College of Technology, Department of Biotechnology, Anna University, Chennai.
Rojapriyadharshini Gandhimathi(Jan 2016 – Apr 2016), from AC College of Technology, Department of Biotechnology, Anna University, Chennai.  Currently doing masters degree in Molecular bioengineering at Technical University of Dresden, Germany and also working on a student job in  Dr. Dora Tang's lab, Max Planck Institute of Cell and Molecular biology Genetics, Dresden.
Uma Sundaram (2014), B.Tech Project,  from Bannari Amman Institute Of Technology, Currently Pursuing PhD at Dept. of Molecular Biology & Biochemistry at University of Southern California.
Karthik Srinivasan (2014), Long Term Project,  from BITS Pilani Goa MSc. (Hons) Biological Sciences + B.E (Hons) Mechanical Engineering Minor in Philosophy, Economics and Politics BITS Pilani K. K. Birla Goa Campus).  Currently a PhD student at Purdue biological sciences graduate program with the Ross fellowship and Dr. P. T Gilham award as well.
External Short term Project Students

Present: NIL
Alumni:
Summer Intern Students: (Students who come for 2 months between May, June, July of respective years)

From IISER-TVM :
External :